Our American Constitution
By Rob Natelson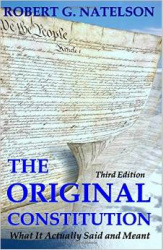 Apis Books, has just issued the ALL NEW THIRD EDITION of my popular work,The Original Constitution: What It Actually Said and Meant.
You can get it in either hard copy or Kindle form
here
.
The third edition includes research updates on the original meaning of such issues as:
* The Recess Appointments Clause (
Justice Scalia quoted my work on the subject in 2014 recess appointments case
) . . .
* The First Amendment (find out whether the famous Citizens United case was rightly decided) . . .
* The Origination Clause—a hot topic for the constitutionality of Obamacare. . . .
And more!
Read also the research conclusions that helped spark the "convention of states" movement.
As always, this book is written for the non-specialist. It is designed to give American citizens an accurate view of what the Constitution really means.
---
BOOKS

"The Liberty Amendments" - new book by Mark Levin coming in August, 2013.

The Law of Nature
"When, in the course of human events, it becomes necessary for one people to dissolve the political bands which have connected them with another, and to assume among the powers of the earth, the separate and equal station to which the laws of nature and of nature's God entitle them, a decent respect to the opinions of mankind requires that they should declare the causes which impel them to the separation..."

Have you ever wondered what "the laws of nature" are? Were they cute words with no real meaning? Could these words have meant something important, something we were never taught?

"A great revolution has taken place at Paris. The people of that country having never been in the habit of self-government, are not yet in the habit of acknowledging that fundamental law of nature by which alone self-government can be exercised by a society. Of the sacredness of this law, our countrymen are impressed from their cradle, so that with them it is almost innate. This single circumstance may possibly decide the fate of the two nations."
~ Thomas Jefferson Jan 29th, 1800
_________________________________________________________


(1820)
The Republican Part I & II
Part III
- Wiliam Jarvis
"I thank you, Sir, for the copy of your Republican which you have been so kind as to send me… looking over it cursorily I see much in it to approve, and shall be glad if it shall lead our youth to the practice of thinking on such subjects and for themselves…"
~ Thomas Jefferson, September 28, 1820
"To the school-boy, also, who may take pains to turn over these leaves, I can sincerely, express a wish, that he may read this book, as he ought to read all others; not with a view of adopting or rejecting, entirely, the sentiments and opinions it contains; but with a view of examining how far they may be usefully applied, in the discharge of his future duties, as a man and a citizen." the author, William Jarvis.
__________________________________________________________
Excerpts of Speeches:
http://www.thefederalistpapers.org/category/founders/james-monroe
http://www.thefederalistpapers.org/category/founders/james-otis